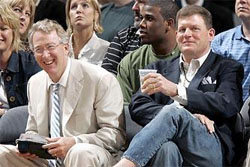 OKLAHOMA CITY – Oklahoma City SuperSonics owner Clay Bennett announced today that he will sell the NBA team he wrested from Seattle and moved to Oklahoma City just three weeks ago. Bennett said he and his fellow billionaire owners realized after their settlement victory in Seattle that there is one thing they enjoy more than owning a basketball team.
"More than We love screwing people over," a beaming Bennett said. "When we looked down from the 14th floor of the federal courthouse and saw 3,000 Sonics fans holding a rally – helium balloons, dorky signs – to save their team, how could you top that?
"We said, 'Just think, we could do this to a whole damn state!' It's like pissing off your little brother and holding him back from punching you by jamming your hand on his forehead – times 6.5 million," he said.
Read More