Do you like, totally suck at math, and stuff? Do you also happen to need a bunch of rechargeable batteries to bring life to all the lousy clearance electronics your aunt bought you from now-defunct retailers Linens 'N' Things and the Sharper Image?
Well you, dear numerically-challenged reader, are in luck. Target has just the deal for you: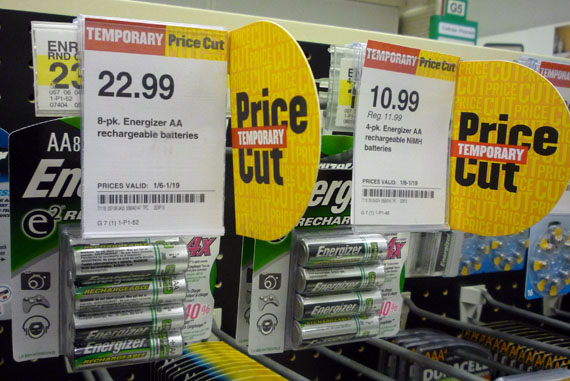 Why buy a measly little four-pack of Energizer AA rechargeable batteries for $10.99 when you can get an eight-pack for $22.99?
Look, it says "TEMPORARY Price Cut" right there on the rack, so it must be a good deal, right?
Other than the fact that two four-packs would only cost $21.98, I can't think of a single reason not to jump on this "deal" right this second.