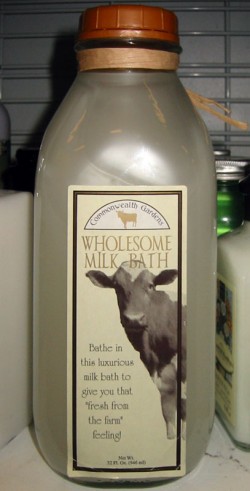 You've always envied farmers and their ability to come home from a long day at work, and just relax in a nice warm bath of cow's milk and unwind. Well now you too can get that feeling, thanks to this "Wholesome Milk Bath" available only at your Ross Dress for Less outlet.
That's right, Ross doesn't just carry grotesquely out of fashion and damaged clothes. They also have a wide variety of fine products for the discerning bather.
The text on the bottle says:
Bathe in this luxurious milk bath to give you that "fresh from the farm" feeling!
I don't know about you, but "fresh from the farm" is exactly what I think of when I think of luxury.