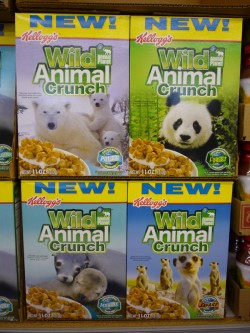 It's a total mystery to me why Kellogg's Wild Animal Crunch failed to be a smashing success, but was instead doomed to haunt the aisles of Grocery Outlet, selling at a massive discount of $1.50 per 11 oz. box.
I mean, who wouldn't want to eat crunchy little bits of polar bears, pandas, seals, and meerkats?
Wait—the cereal isn't made of wild animals? Oh, so it must be what wild animals eat, then? That sounds a little less appetizing, but I guess I'd be willing to give it a try. The animals on the box look pretty happy with their diet, after all.
That's not what it is either? Well what the heck is it, then?
Oh, it's just another sugar-infused, cardboard-y marketing ploy.