The unveiling of an exquisitely-crafted bronze statue honoring a pair of admirable local stars triggered widespread panic and confusion among residents of Seattle's Fremont neighborhood Sunday afternoon.
The superb level of detail and craftsmanship in the statue titled "Late for the Interurban" mystified residents, accustomed to crude concrete depictions found in such local treasures as the Fremont Troll and "Waiting for the Interurban."
"I don't understand," said Fremontite Jim Thurston. "How can it be art if it doesn't look like it was formed from leftover construction materials?"
"Late for the Interurban" depicts J.P. Patches and Gertrude (played by Chris Wedes and Bob Newman), stars of the beloved children's program "The J.P. Patches Show," which aired on KIRO from 1958 to 1981. As the longest-running locally-produced children's program in American history, it holds a permanent place in the hearts of thousands of long-time Puget Sound residents.
The deserving nature of the local heroes now enshrined in bronze also served to upset and bewilder the locals. Home to a contentious statue of communist leader Vladimir Lenin, Fremont has long maintained a sense of community pride in its ability to embrace art that would ordinarily cause any self-respecting American to throw up a little in their mouth.
"This J.P. Patches statue doesn't seem controversial at all," said Patty Hayburn, who has lived in Fremont since 1989. "If it doesn't offend people with outdated traditional moral values, then what's the point?"
Thousands of "Patches Pals" from every corner of Puget Sound (except Fremont) packed into Solstice Plaza for the unveiling Sunday.
"Look at all those smiling faces," said visibly disgusted Fremonter Patrick York as he stood a safe distance from the cheerful ceremony. "This statue is going destroy the character of our neighborhood, drawing a steady stream of happy, carefree people—every one of them a kid at heart. It's sickening."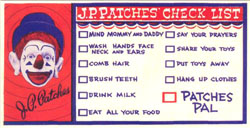 Courtesy J.P. Patches
↑ click to enlarge ↑
An especially agitated group of Fremonticans began circulating a petition Monday morning, demanding that the sentimental statue be either removed or modified in some way to make it more distasteful. Suggestions on the petition include changing the smiling faces of J.P. Patches and Gertrude into bitter scowls, severing one or more of their appendages, or somehow adding a toilet to the sculpture.
"I just can't believe we are honoring a character that stands for such blatantly anti-Fremont values like washing your hands face neck and ears or sharing your toys," said York.
Unfortunately for York and other concerned Fremontese citizens, the playful sculpture is in Fremont to stay.
Good-natured Puget Sound residents interested in inflicting additional unwelcome cheer and happiness on Fremont can find the statue on the south side of North 34th Street in Fremont, half a block east of Fremont Avenue.