Building on the unbridled success and runaway popularity of the South Lake Union Trolley, a spokesman for Paul Allen's Vulcan Inc. announced Wednesday that construction of a second streetcar line in the neighborhood will begin immediately.
The new "Because I Can" line will run approximately half a mile, circling the three blocks bounded by Republican Street to the north, Boren Avenue to the west, Pontius Avenue to the east, and Harrison Street to the south. The streetcar will have a single stop, located on Harrison.
"With the South Lake Union Line already running at nearly eight percent capacity, we cannot afford to waste time on this new line," said Allen in a written statement released by Vulcan. "I have already purchased the property at 1165 Harrison and will begin demolition of the existing structure as soon as we acquire permits from the city."
The location of the future streetcar station on Harrison is currently home to a fast food restaurant and an independent coffee shop.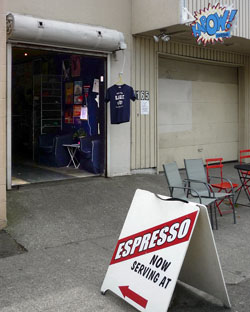 Nigel Jones | The Naked Loon
↑ click to enlarge ↑
"It's a real shame that we have to displace local businesses like this," said Allen's statement, "but you can't create a new and vibrant neighborhood here without bulldozing at least a few of these eyesores."
The demolition of 1165 Harrison means that locals with a hankering for fish tacos will be forced to walk over three blocks to the next-nearest Taco Del Mar.
It also coincidentally eliminates Kapow! Coffee, the coffee shop made famous by their promotion of the S.L.U.T. acronym for the existing streetcar and their proposal to build a 300-foot bronze statue of Paul Allen.
"Oh, is that what's there right now," said Allen when we called for a comment about the closure of Kapow! Coffee. "I had no idea that building this new streetcar would mean eliminating those… people."
Kapow! Coffee owner Angela Baker says that they're not concerned about the impending demolition of Kapow's current location.
"If Allen strikes us down, we shall become more powerful than he could possibly imagine," said Baker. "Also, we plan to relocate to the Giant Paul's big toe once the statue is completed anyway, so leaving this location is really no big deal."
The City Council will hold a special session on Friday to rubber-stamp Allen's proposal. Once the permits are issued, demolition of 1165 Harrison is expected to begin within a week. Vulcan will then crush the building with one swift stroke.