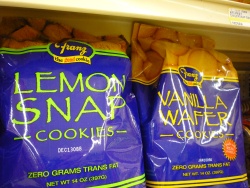 Welcome to the new Naked Loon blog: The Papyrus Virus.
If you haven't noticed any Papyrus typeface today, you probably haven't been looking. The font covers the country and our beloved Puget Sound like a plague.
This blog will document, catalog, and attempt to stamp out via ruthless mockery the growing virus that is the Papyrus font. We'll be highlighting our own spottings of the omni-present lettering, but we are also happy to receive user submissions as well. Just send pictures to jones %at% nakedloon %dot% com
So let's jump right into the Papyrus ridicule, shall we?
Pictured at right is a pair of cookie products we spotted at a local Top Food and Drug outlet. These Franz Lemon Snaps and Vanilla wafers are lousy with Papyrus. I really think the usage of Papyrus makes these cookies super-classy, don't you?
I mean, what about "written on ancient parchment" doesn't say "delicious snack" to you?