Forecast Monkey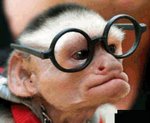 Forecast Monkey provides daily stock market predictions which are based on whatever criteria we feel like using, which may or may not include sophisticated computer modeling, gut impulses, and/or "maimoumancy" (divination by observing the antics of a hyperactive "forecast monkey").
The Naked Loon strongly recommends against anyone using these forecasts for trading purposes, or even for attempting to sound smart at parties.
These predictions are for ENTERTAINMENT PURPOSES ONLY.
Click here to learn more about the Forecast Monkey and his blog.