Archive for March 2009
You are browsing the Naked Loon story archives.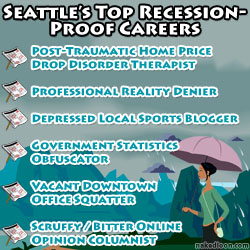 (Visit The Naked Loon to view this life-altering graphic)

At the conclusion of a specially-convened 48-hour summit this weekend, the United Nations narrowly passed a resolution declaring an official end to the worldwide economic crisis.
The resolution states that if the complete and utter collapse of the world economy refuses to cease all its financial destruction programs and allow UN inspectors to verify the termination thereof, it runs the risk of bearing the full brunt of further resolutions.
In a decisive and timely move during an emergency special session Saturday night, the Kirkland city council voted unanimously to pass Ordinance 4188, which prohibits any further layoffs at any company within the city limits.
"As the economic crisis continues deepen, Kirkland simply cannot afford to be marred by the destructive connotations associated with layoffs," said Kirkland Mayor James Lauinger in a prepared statement.